About Donatos Pizza
Every Piece Is Important.®
When you think about it, pizza is all about bringing people together. The real fun happens when it's shared by many — that moment when the box is opened and eager hands appear from every direction to help themselves.
What makes Donatos so deliciously different
Our Edge to Edge® promise. Your Donatos pizza is loaded Edge to Edge® with toppings, so it's consistently delicious, bite after savory bite.
Award winning dough. We've used the same recipe for 50 years (it's the best we've ever seen)—baked to golden perfection and sprinkled with cornmeal for extra crispness.
Piles of pepperoni. Go ahead and count 'em. We put 100 crispy pepperoni on each and every large thin crust pizza we make.
Family-recipe sausage. We've used our family's sausage recipe, filled with special seasonings (and no artificial flavors, colors, or preservatives) since 1963.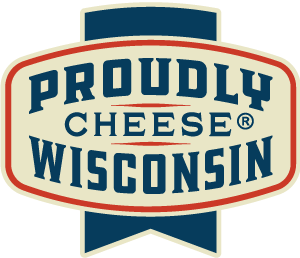 Premium cheese. We use only real Wisconsin Cheese—naturally smoked, aged Provolone cheese, to be exact—because it's just more flavorful.
Fresh, hand-cut veggies. From our Roma tomatoes and onions to our green peppers, our veggies are always fresh and sliced by hand every day.
---
Since 1963, Premium Pizza With A Personal Touch.
When Jim Grote was 13, he took a job at a Columbus pizza shop. By his sophomore year at The Ohio State University, the pizza business had him hooked for life. Jim bought the shop in 1963 for $1,300. He kept the name, derived from the Latin for "to give a good thing"—the perfect way to describe his three-part mission: make the best pizza, hire great people, and promote goodwill in the community.
As the business grew, Jim raised his family in a home behind that first pizza shop. This mix of work, friends and family helped define Donatos' distinctive culture.
"When folks arrived to pick up their pizza, I had them stop by to say hi to Nancy and the kids," Jim remembers. "It was great, a home filled with friends and neighbors."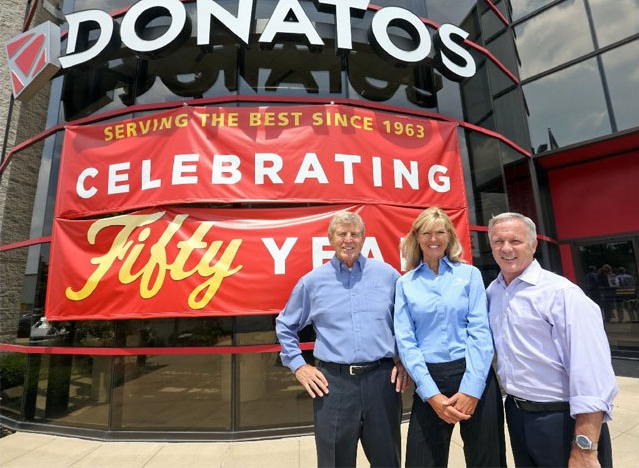 Today, our family-owned company remains a favorite in Columbus and beyond. Working with his daughter, Donatos Chairwoman Jane Grote Abell, Jim remains a guiding influence at the company, and his values continue to shape everything we do—from our generous Edge to Edge® premium toppings to the way we treat our associates like family—and especially the way we always strive to be a good neighbor.
Now with over 375 locations in 22 states, Donatos and its franchise partners operate more than 170 traditional restaurants in Ohio, Indiana, Kentucky, Virginia, West Virginia, South Carolina, Alabama, Tennessee, Georgia, Pennsylvania, and Florida.
Donatos' products are also proudly served in more than 200 non-traditional locations through partnerships with Red Robin, sports and entertainment venues, and REEF.
To learn more about Donatos, visit donatospizzafranchise.com.
---
Undercover Boss

Chairwoman Jane Grote Abell delivers!
In 2013, Donatos Chairwoman Jane Grote Abell went undercover as Cathy, a new Donatos Associate.
Watch the full episode on CBS All Access »
To learn more about Jane, and get the complete Donatos story in The Missing Piece: Doing Business the Donatos Way by Jane Grote Abell, visit JaneGroteAbell.com